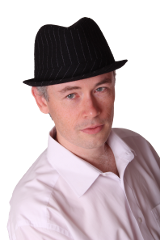 Ronny Ager-Wick
database specialist, software developer, project manager, software maintenance engineer, DIY enthusiast, maker, hobby mechanic / carpenter / plumber / mason / welder / farmer
Thinking up complex data structures, developing nearly unimaginable features, fixing seemingly unfixable bugs and not to mention maintaining systems to an impossibly high standard keeps my mind alert.
All non-software projects, from constructing or improving buildings, cars, roads, bridges, to redesigning the electrical system in my Jeep, to simply fixing the leaking kitchen sink or planting fruit trees and vegetables in the garden help keep me from becoming insane - although some may claim this has not been successful...
Actually, my wife is probably the one keeping me sane, and our kids sometimes present challenges a software project would never approach in complexity. I really love them, they're brilliant!
I also love database design (although admittedly, that's not even a close second after my wife and kids), and I really enjoy developing software that help my clients succeed and excel (usually I'm using Ruby). I am particularly happy to assemble and manage a team of talented developers, as this not only makes it possible to develop a big system in less time, but it also guarantees I will be challenged and learn a lot.
The last couple of years I've gained a love for actually maintaining software, whether or not I wrote it. This may sound weird to a lot of my fellow developers as the norm seems to be to develop one system, then move on to the next one. To me, maintaining software gives some kind of completeness to it all, the satisfaction that I know a system continues to work, not just that it seemed to work when it was delivered. Just like maintaining cars and buildings is necessary to ensure continuous trouble free operation, so is software maintenance.
Where to find me online
tech tweets / opinionated tweets
Google Profile / Google+ / LinkedIn Profile
OpenStreetMap / StackOverflow / Launchpad / GitHub
Facebook: You got to be joking!
Microsoft something, MSN or whatever: Now you're definitely pulling my leg!
Where to find me when I'm
AFK (Away From Keyboard)
Phone:
E-mail:
Physical address: It varies...
Sometimes London, UK
Sometimes Magalang, Pampanga, Philippines
Sometimes Lillesand, Norway
occasionally somewhere else
To avoid disappointment, email me first :)